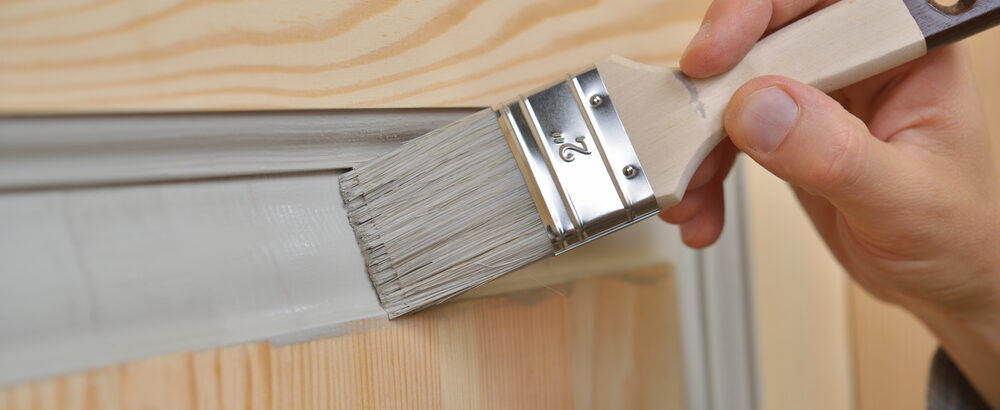 When it comes to home renovations, picking the best paint for interior doors can be an overlooked but crucial decision. Your interior doors, after all, are integral parts of your home's aesthetics and functionality. In this guide, we'll dive deep into how to select the best product, ensuring your doors not only look great but also stand the test of time.
A fresh coat of paint on interior doors can breathe new life into a space. It's astonishing how such a seemingly small change can utterly transform a room's vibe. Whether you're aiming to create a bold statement with a daring color or seeking a subtle, understated finish, the right paint choice can make all the difference.
Why Interior Door Paint Matters:
Imagine walking into a room and being greeted by a vibrantly painted door that perfectly complements the space. It's not just about the visual appeal; it's about choosing a paint that will endure the daily wear and tear. Here's why selecting the best paint for interior doors is essential:
Durability: Interior doors are subject to constant use. From swinging open and closed to accidental knocks, you need paint that resists chipping and fading.
Aesthetic Appeal: A well-chosen paint color can transform a plain door into a statement piece or help it blend seamlessly with the room's decor.
Protection: The right paint can act as a barrier against minor damages, ensuring your door lasts longer.
Factors to Consider Before Buying Paint for Interior Doors:
When it's time to revamp your living space, selecting the best paint for interior doors isn't as straightforward as one might initially think. It's more than grabbing a can of paint off the shelf. Several factors play into this decision, ensuring that the end result aligns with your vision and the door's functionality. Here's a closer look at those crucial considerations:
1. Type of Door Material:
Every door is unique, not just in design but in composition. Understanding the material of your door is the first step.
Wooden Doors: The most common type, of wood can be porous. So, a primer is often a good idea before painting to ensure an even application. Some paints are specifically designed for wood, offering better adhesion and finish.
Metal Doors: Metal can be a bit trickier to paint than wood. You'll want a paint that adheres well to metal surfaces, possibly even a dedicated metal primer first. Rust prevention is also a consideration here.
Composite or PVC Doors: These doors might require paints that adhere to plastics and other synthetic materials. It's also worth noting that these materials might expand and contract with temperature changes, so a flexible paint could be beneficial.
2. Desired Finish:
Your choice of finish can dramatically alter the door's appearance, even if the color remains the same.
Glossy: This finish is reflective and shiny. It can make colors pop and is easily wipeable, but it might also highlight imperfections.
Matte: Offering a flat, non-reflective finish, matte paints provide a modern and sophisticated look. However, they might show marks more readily than glossier options.
Semi-Gloss or Satin: A middle-ground option, these finishes offer a slight shine but are less reflective than a full gloss, making them a popular choice for interior doors.
3. Durability and Ease of Cleaning:
Doors, especially those in high-traffic areas, face a lot of wear and tear. Fingers leave behind oils, pets might scratch, and accidents happen.
Opt for paints labeled as "durable" or "scrub-resistant." These are designed to withstand more frequent cleaning.
Some paints offer built-in stain resistance, ensuring that any marks or spills can be cleaned off without much hassle.
4. Color Choice and Its Impact on Room Aesthetics:
The color of your door can either make it stand out as a focal point or allow it to blend seamlessly with the room's decor.
Bold Colors: If you're looking to make a statement, a bold color can be a great choice. Just ensure it complements the room's overall color palette.
Neutral Tones: Colors like white, beige, or soft gray can offer a timeless look and are versatile enough to suit various decor styles.
Room Size and Lighting: Remember, dark colors might make a small room feel even smaller, while light colors can open up a space. The room's lighting (natural and artificial) can also impact how the paint color appears.
Types of Paint Suitable for Interior Doors:
The best paint for interior doors typically falls into one of these categories:
Water-Based (Latex) Paints:
These paints are beloved for their quick drying times and low odor. They're also easy to clean up with just water. However, while they're good, they might not offer the same durability as some oil-based options, especially in high-traffic areas.
Oil-Based Paints:
Known for their smooth, durable finish, oil-based paints are excellent choices for interior doors. They're long-lasting, but the trade-off is a stronger odor and a longer drying time. You'll also need mineral spirits for cleanup.
Acrylic Enamel Paints:
If you want the durability of oil but the ease of water-based paints, acrylic enamel paints are your best bet. They offer a long-lasting finish, though they might be pricier than the other options.
Top Picks: Best Paint for Interior Doors:
Choosing the best paint for interior doors can be overwhelming, given the myriad of options available. Here are some top picks to consider:
Product A: This paint offers exceptional durability and a range of beautiful colors. Its quick-drying formula ensures you can finish your project in a day. However, it comes at a slightly higher price point.
Product B: If you're after a glossy finish, this product might be your best bet. It's resistant to chipping and is available in various shades. Some users, however, have noted it requires multiple coats for the best finish.
Tips for Painting Interior Doors for the Best Results:
To get the most out of the best paint for interior doors, follow these tips:
Preparation: Clean the door thoroughly, sand down any rough patches, and use a primer if necessary.
Right Tools: Invest in quality brushes or rollers for a smoother application.
Even Strokes: Apply the paint in even strokes and ensure you allow enough drying time between coats.
Ventilation: Always work in a well-ventilated area to avoid inhaling fumes and to help the paint dry faster.
Common Mistakes to Avoid:
Even with the best paint for interior doors, things can go awry if you're not careful. Watch out for these pitfalls:
Skipping Primer:
Especially on raw wood or metal doors, a primer ensures the paint adheres correctly and looks its best.
Painting Over Dirt:
Failing to clean the door can result in an uneven finish.
Rushing Between Coats:
Not allowing adequate drying time can lead to streaks and an unsatisfactory result.
Some Common Answering questions
what is the best black paint for interior doors
The best black paint for interior doors is Benjamin Moore's "Black" (2132-10). Renowned for its rich depth and excellent coverage, it offers a variety of finishes, ensuring durability and a sophisticated look that complements diverse interior styles. This paint stands out for its consistency and long-lasting appeal.
what paint finish is best for interior doors
The best paint finish for interior doors is semi-gloss. This finish offers a subtle shine that highlights the door's details, is easy to clean, and is durable enough to withstand frequent use and occasional bumps or scuffs. It strikes the right balance between aesthetic appeal and practicality for most homes.
which paint is best for interior doors
The best paint for interior doors is Benjamin Moore's Advance Interior Paint. Renowned for its superior adhesion, durability, and smooth finish, it's specially formulated for doors and trim. This paint ensures a long-lasting, elegant look, easily standing up to daily wear and tear typical of interior doors.
Conclusion:
In the quest to find the best paint for interior doors, it's essential to consider both functionality and aesthetics. By understanding your needs and being aware of the various options available, you can transform your doors into beautiful, durable fixtures that enhance your home's overall appeal.